Make a sausage-dog draught excluder
You can transform an old pair of tights into an adorable sausage dog, which will keep out draughts from under doors. Easy to make, it requires very little sewing and can be attempted by children of any age, especially if the eyes and ears are glued on. 
Materials


• Old pair of woolly tights
• Wool
• Scraps of fabric
• Two buttons
• Needle and thread
• Stuffing or old socks (clean!)
• Old mittens or children's socks
• Scissors


1. Cut one of the legs from an old pair of woolly tights as high up as possible with a pair of scissors.


2. Fill the cut leg of the tights with stuffing (or whatever you're using) so it forms a sausage shape. Leave a bit unstuffed at the end.


3. Cut a length of wool and tie it firmly around the end of the sausage, finishing with a double knot to hold it in place.


4. At the other end, tie another piece of wool around the toe to make a big doggy nose. Again tie a knot to hold the shape in place.


5. Sew an old mitten or children's sock on to each side of the sausage just above the nose to make the dog's ears.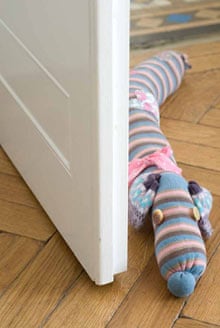 6. Sew the buttons on to the sausage to make eyes. Tear a strip off some fabric or use a piece of ribbon and tie around the doggy's neck to make his collar.